GET A TASTE FOR THE BEAUTY, FLEXIBILITY, FLUIDITY AND POWER OF WUSHU.
Here is what you will get from taking this course:
You will learn the Long Fist Form, one of the key highlights of Wushu, especially for beginners.
You will gain flexibility, fluidity, balance and control.
Learn the basics of this beautiful art, be able to perform it regardless of age or martial arts development.
You will gain thorough understanding of the movements, purpose behind them, and alternative options to match your flexibility and balance level.
Wushu (武术) is a form of contemporary Chinese martial arts that blends elements of performance and martial application. Wushu training emphasizes quickness, explosive power, and natural, relaxed movement.
Your Instructor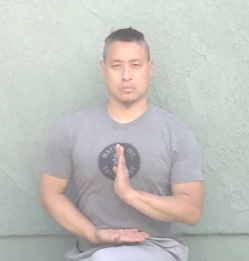 Sifu Paul Chen has been practicing martial arts for over 40 years; from the early age of 5. His journey into Wushu (collectively know in America as "kungfu") is from the opposite direction of most teachers. Sifu Chen started in the more traditional martial arts including White Crane, Wing Chun, Tai-Chi before focusing on modern Wushu 20-years ago and Shaolin 10-years ago.

Sifu Chen has a long career and successful career in electronics. He fell in love with how wushu/Northern Longfist marries martial arts and science to the physical benefit of practitioners. With his background in traditional martial arts, he has uniquely been able to translate the visually flashy wushu to the practical self-defense. Sifu Paul wishes to pass on this love and knowledge of Chinese martial arts to as many students as he can.
Almost 15 years of coaching

started as an assistant Seattle
head instructor for local Chinese school in Orange County CA

Black Belt in Wushu, National Wushu Training Center

Chang quan / Long fist
Nan quan / Southern fist

Shaolin martial arts

NCCPT Certified Personal Trainer,
ISSA Certified Kickboxing Instructor
TESTIMONIALS

Frequently Asked Questions
When does the course start and finish?
The course starts immediately following enrollment. It will end when you reach the final lesson of the course, each Lesson Block will be unlocked weekly.
How long do I have access to the course?
After enrolling, you have unlimited access to this course for as long as you maintain your subscription - across any and all devices you own.
How does the course work?
Just like in an academic curriculum, your course is divided into weekly sections. Each section contains lessons that you should review and practice that week. Each lesson also contains homework assignments which you should complete before next week section unlocks (they are just simple tasks Sifu Chen will give you at the end of each lesson). Each weekly section, or course block, unlocks 1 week after the last one. So for example, week 1 lessons are available immediately upon enrollment. Week 2 lessons will become available 7 days after your enrollment, week 3 lessons will become available 14 days and so on. Do not rush, make sure you understand the material and you practiced it enough before moving on to the next lesson or section.
What if I have a question?
Excellent! Our instructors LOVE questions, it tells them you are interested and passionate about the topic. You can also ask questions right there under the lesson and your Instructor will answer your questions for you.
Start your Wushu journey today!