Are you going to learn fool-proof techniques in this course? No!
But let me ask you this:
"Would you rather have 0% chance of survival because you did not practice any defense against weapons or 10% chance of survival because you did?"
If your answer is "Yes" , keep on reading. If "No" then we hope you will check some of our other courses out before you leave.
FILIPINO MARTIAL ARTS - LAKAS KATORSE
Here is how you will FEEL after taking this course:
You will feel more confident in your abilities to handle a weapon and to be in front of someone else with a weapon.
You will feel like you understand human anatomy enough where you could control your opponent by their limb.
You will feel better about yourself having learned skills that can aid you in life through acquired confidence, endurance, timing and accuracy all of the skills that are directly transferable to almost anything else in life.
Here is what you will get from taking this course:
You will learn how to use single and double stick, knife, machete and even a JUMP ROPE to defend yourself.
You will learn how to manipulate human body for grappling and submissions using various weapons.
Fight does not stop until your opponent is completely disarmed, learn quick disarming techniques that will aid you well in case you will ever need it.
Learn how to do shadow drills that will train your muscle endurance, stamina, efficiency of movement and more!
- 7 Chapters of different weapon defense
- 160+ Lessons
- FREE Final Examination and Certificate of Completion Included!
FREE Final Examination and Certificate of Completion Included!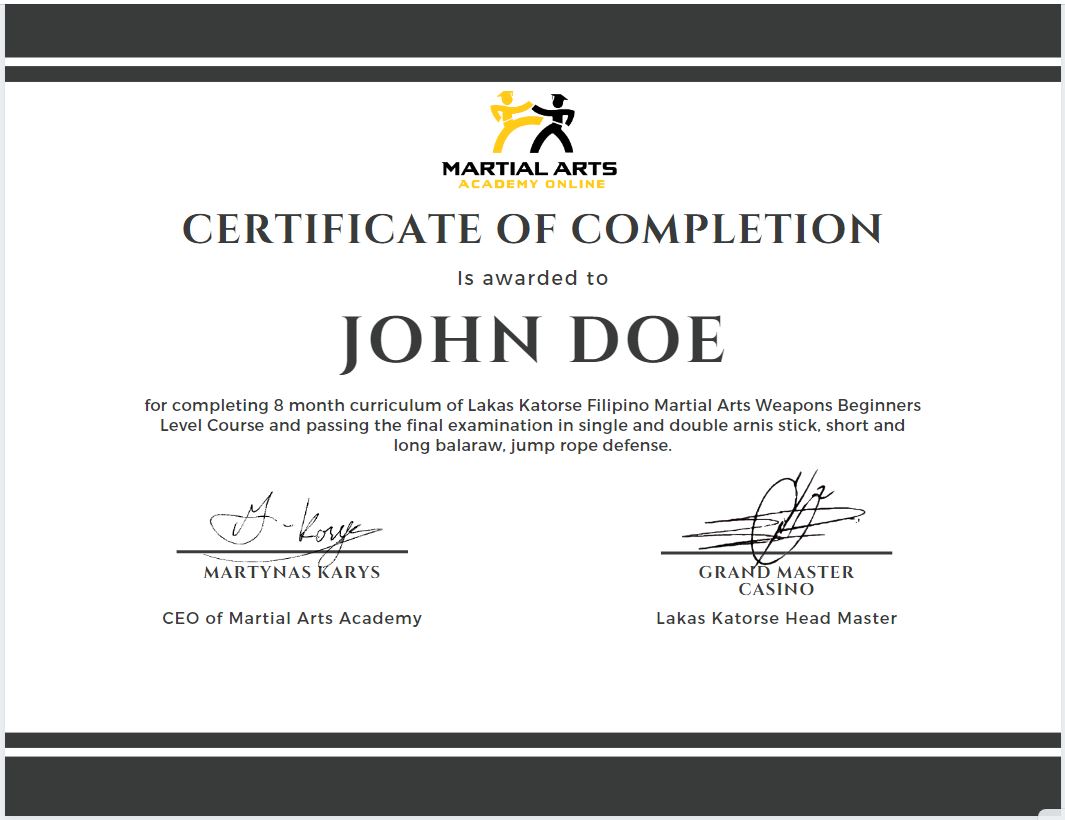 Your Instructor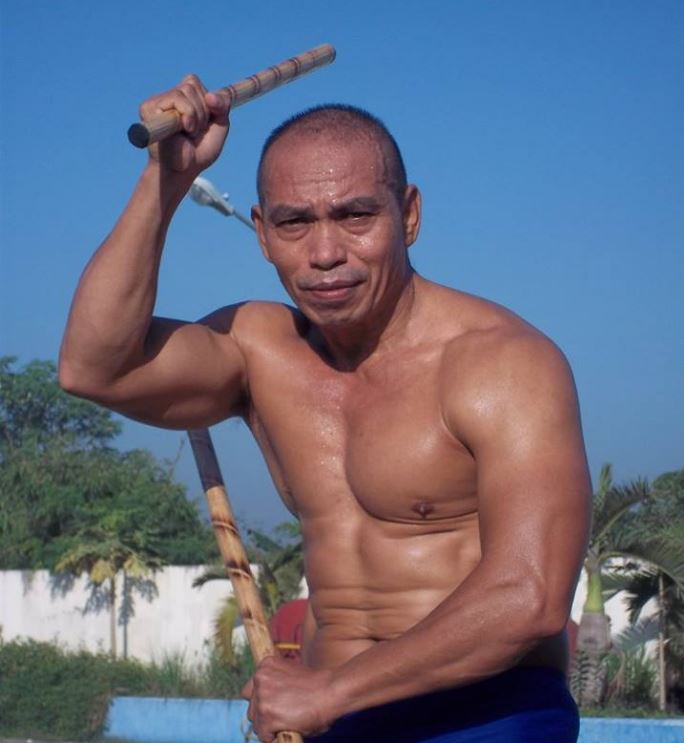 Grand Master Casino has been training in Martial Arts systems for nearly 50 years. Some of the systems he practiced include
Arnis/Kali/Escrima

Japanese karate

Boxing

Kickboxing

Sikaran (Filipino Kicking Art)
He won numerous local and international competitions and over the years has developed his own system known as Lakas Katorse by combining, experimenting on and testing elements and techniques from other Filipino Martial Art systems. He taught his system to King Fahd Naval Academy recruits in Saudi Arabia.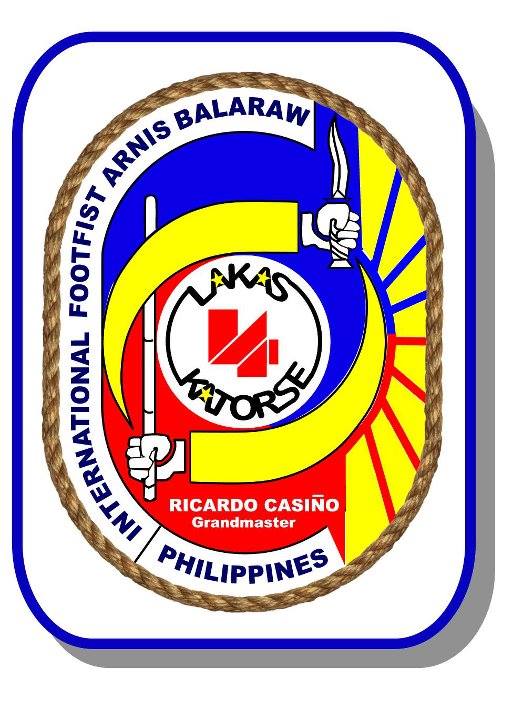 Lakas Katorse is a Filipino Martial Art that specializes in weapons fighting that has been 50 years in the making.
It combines different elements of Filipino Hand to Hand combat, Grappling, Wrestling and submissions with Arnis stick fighting, Knife, Machete, Jump Rope and many other weapons.
Lakas Katorse has been recognized by many international Martial Arts organizations such as The World Organizer of Martial Arts (WOMA), Board of Martial Arts Council (BOMAC), World Karate Federation (WKF), World Accreditation of Certification Office For Martial Arts (WACOM), The International Council of Master and Grandmasters (ICMG), The World Head of Society (WHOS), and many other regional and international organizations.
Our unique way of filming and presenting Online Lessons will make you feel as if you are right there, getting a private lesson from your Instructor!
Course Price Comparison
This course is priced very low, because we want everyone to have a chance at learning Lakas Katorse Filipino Martial Arts. You will get access to the course lessons, to Instructor, exclusive Facebook Group and content. This is an unbeatable price, but in case you thought it was still much, check out this price comparison chart: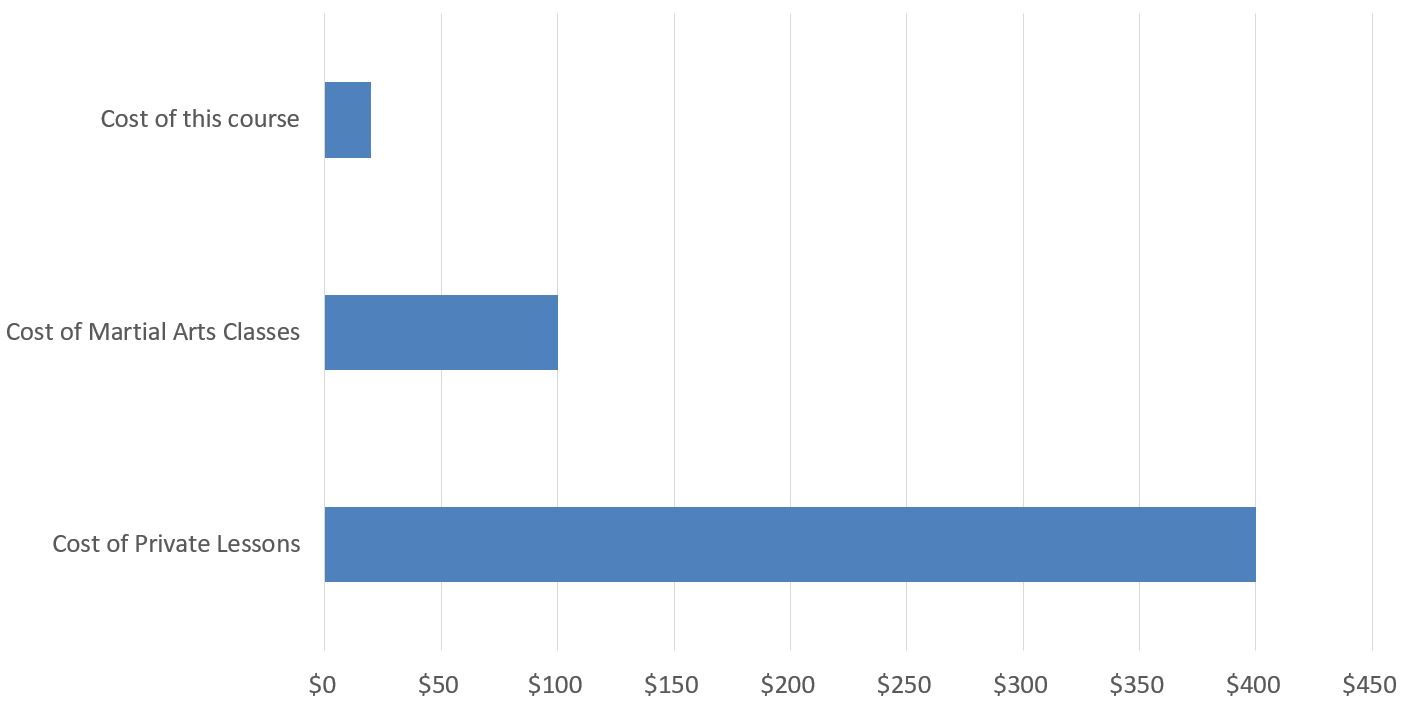 What Students Had to Say


Frequently Asked Questions
When does the course start and finish?
The course starts immediately following enrollment. It will end when you cancel your subscription, each Lesson Block will be unlocked weekly.
How long do I have access to the course?
After enrolling, you have unlimited access to this course for as long as you maintain your subscription - across any and all devices you own.
How does the course work?
Just like in an academic curriculum, your course is divided into weekly sections. Each section contains lessons that you should review and practice that week. Each lesson also contains homework assignments which you should complete before next week section unlocks. Each weekly section, or course block, unlocks 1 week after the last one. So for example, week 1 lessons are available immediately upon enrollment. Week 2 lessons will become available 7 days after your enrollment, week 3 lessons will become available 14 days and so on. Do not rush, make sure you understand the material and you practiced it enough before moving on to the next lesson or section.
What if I have a question?
Excellent! Our instructors LOVE questions, it tells them you are interested and passionate about the topic. You can also ask questions right there under the lesson and your Instructor will answer your questions for you. In addition, you can ask questions on the exclusive Facebook Group that is made for this course.
Is there a Certificate?
Yes, at the end of the course you will take an offline exam where you submit a video of all the techniques that you have learned in this course, upon review, GM Casino will grant you access to a Course Completion Certificate which will display the weeks of work that you have put into training Filipino Martial Arts. This Certificate is included in the price of monthly subscription.