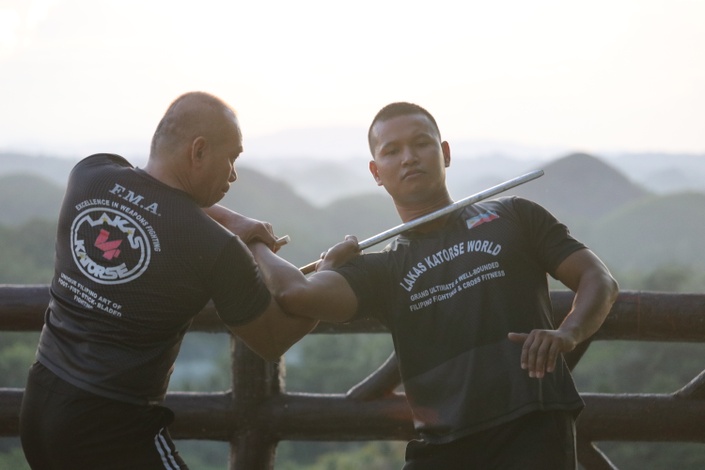 Filipino Martial Arts - Weapons (Instant Full Access)
Learn how to defend yourself using Single and Double Arnis, Knife, Machete and even a Jump Rope!
Watch Promo
FILIPINO MARTIAL ARTS - EXPERT IN WEAPONS FIGHTING
Here is what you will get from taking this course:
You will learn how to use single and double stick, knife, machete and even a JUMP ROPE to defend yourself.
You will learn how to manipulate human body for grappling and submissions using various weapons.
Fight does not stop until your opponent is completely disarmed, learn quick disarming techniques that will aid you well in case you will ever need it.
Learn how to do shadow drills that will train your muscle endurance, stamina and you will look awesome doing it!
FREE Final Examination and Certificate of Completion Included!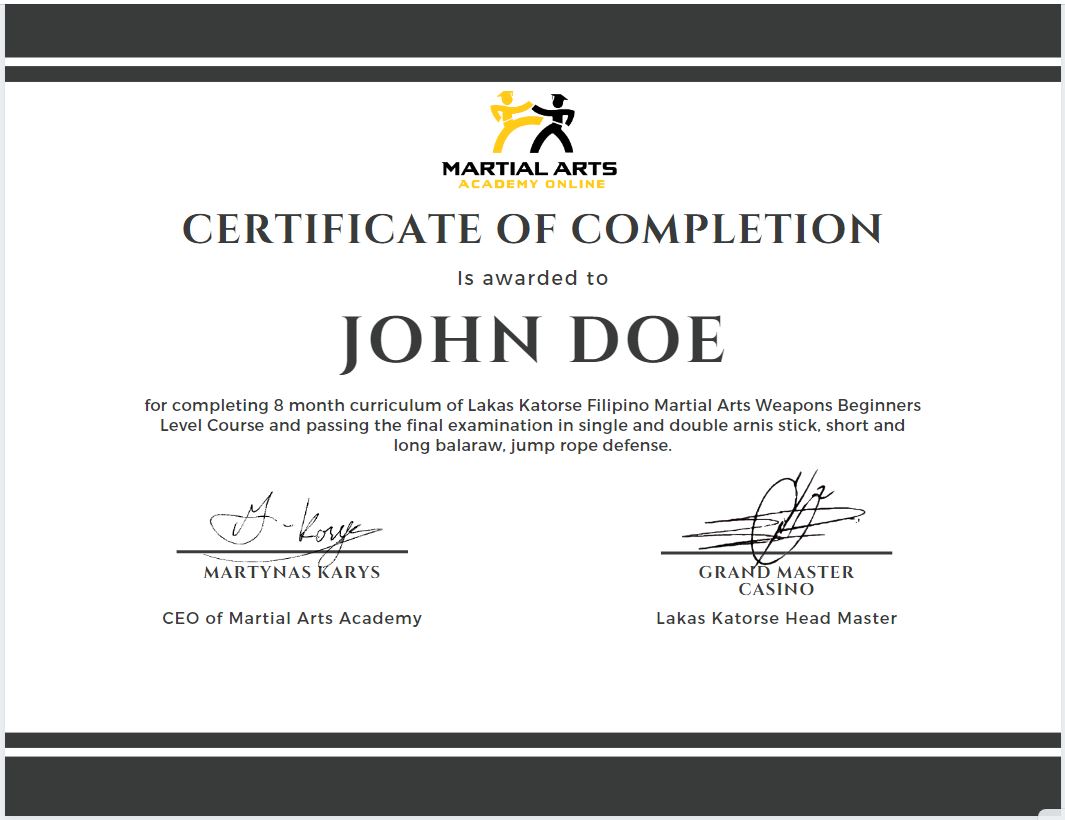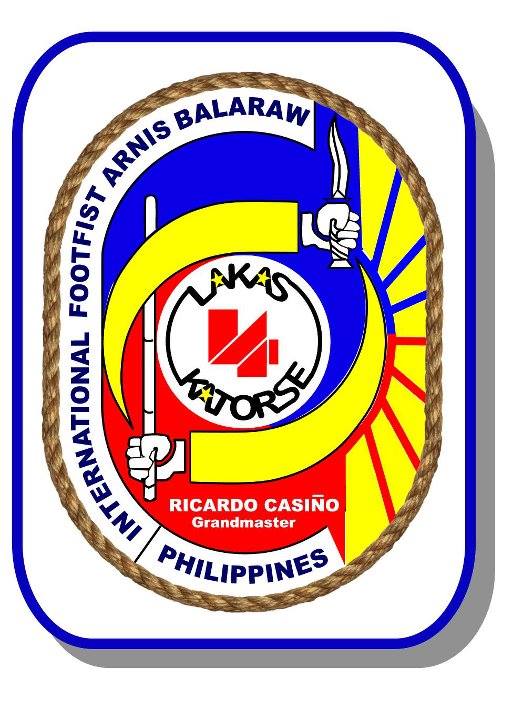 Lakas Katorse is a Filipino Martial Art that specializes in weapons fighting.
It combines different elements of Filipino Hand to Hand combat, Grappling, Wrestling and submissions with Arnis stick fighting, Knife, Machete, Jump Rope and many other weapons.
Check out the video below to see Lakas Katorse in action.
Your Instructor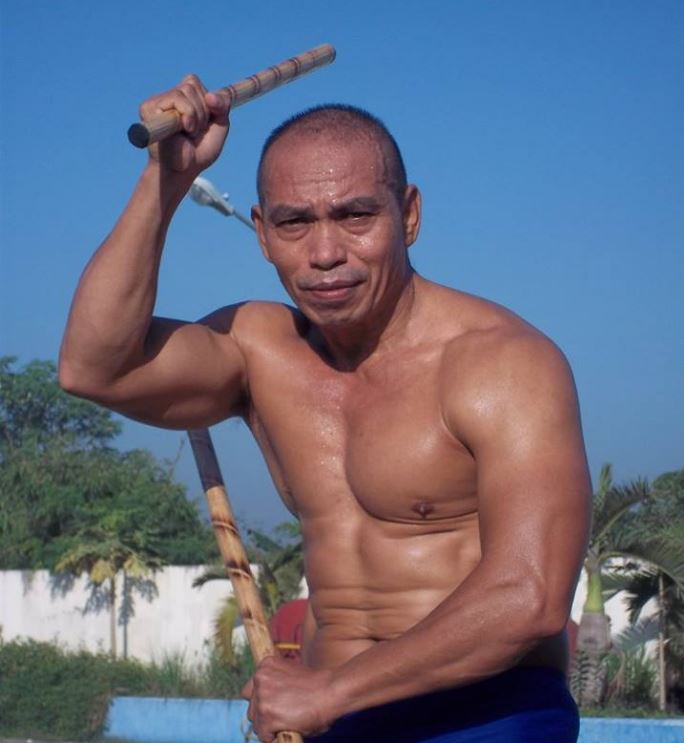 Grand Master Casino has been training in Martial Arts systems for nearly 50 years. Some of the systems he practiced include
Arnis/Kali/Escrima

Japanese karate

Boxing

Kickboxing

Sikaran (Filipino Kicking Art)
He won numerous local and international competitions and over the years has developed his own system known as Lakas Katorse by combining, experimenting on and testing elements and techniques from other Filipino Martial Art systems. He taught his system to King Fahd Naval Academy recruits in Saudi Arabia.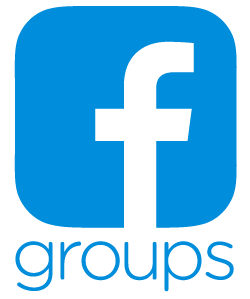 Subscribe to Filipino Martial Arts Course and get access to EXCLUSIVE FACEBOOK GROUP!!!
Ask questions about the techniques - get answers from Grand Master Casino himself.

Find training partners, or simply connect with other students of the course.

Exclusive video content added by GM Casino just for the group members.

Remain a group member forever, even if you are no longer part of the course.

- 7 Chapters of different weapon defense
- 160+ Lessons
- FREE Final Examination and Certificate of Completion Included!
See the quality of lessons for yourself, click on "Preview" button to check them out, before you buy!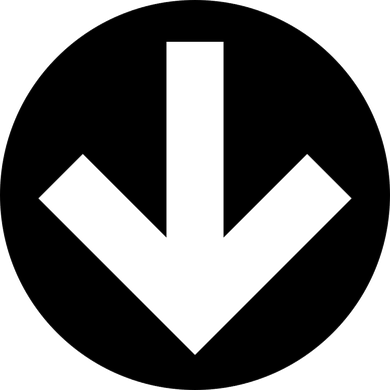 Frequently Asked Questions
When does the course start and finish?
The course starts immediately following enrollment, it is completely self-paced.
How long do I have access to the course?
Forever! - across any and all devices you own.
What if I have a question?
Excellent! Our instructors LOVE questions, it tells them you are interested and passionate about the topic. You can also ask questions right there under the lesson and your Instructor will answer your questions for you. In addition, you can ask questions on the exclusive Facebook Group that is made for this course.
Is there a Certificate?
Yes, at the end of the course you will take an offline exam where you submit a video of all the techniques that you have learned in this course, upon review, GM Casino will grant you access to a Course Completion Certificate which will display the weeks of work that you have put into training Filipino Martial Arts. This Certificate is included in the price.